If you are in the Collingwood, ON area, and are interested in our custom homes, call us today.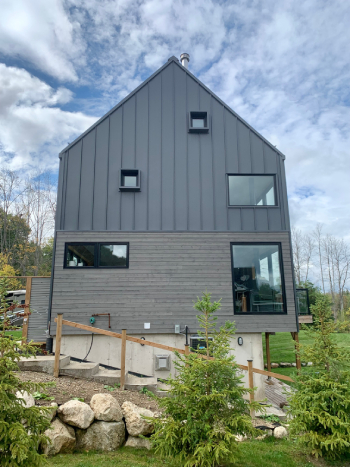 Your home is a setting where you can freely express yourself, nurture growth and experience life. It is a creation that is yours alone. Our custom homes are more than just a place to live; they embody those things that bring you comfort, joy and satisfaction. Custom homes from us at Scot-Build Developments Inc. help you create a place that holds special meaning for you and, above all else, fulfill the unique requirements of your family and the life you lead.
In the end, what makes our custom homes the perfect choice is how easily you and your family fit right in. With a process designed to bring order, we efficiently guide you through the building process to the point of enjoying your new home in Collingwood, ON or the surrounding area. We are a builder of traditional and contemporary custom homes including:
Full Custom Turn-Key Homes – We offer project management and consulting services to give you everything you need to build your home from start to finish. All you have to do is open the door to your new home!
Scottish Longhouse Design and Build – Based on a historic home design in Scotland and Northern Europe, these custom homes are modernized to give you all the comforts of today. You'll love the clean, unique look while enjoying a comfortable, custom interior.
Off-the-Grid Homes – We understand that sometimes you have to get out of town, but that doesn't mean you don't want to have the comforts of modern life. We provide off-grid services including geothermal energy, solar panels, septic system design and installation, and wind turbine options.
When you are designing, building, or renovating your new home, our job is to listen to you, understand your vision, and communicate it with the tools of our craft: smart design, architectural sophistication, thoughtfully selected materials, and quality workmanship.
At Scot-Build, we understand that what we build is more than just a home for our clients; it's an opportunity to build a relationship for life. We serve Collingwood, Thornbury, Creemore, Kimberly, Wasaga Beach, the Georgian Triangle, Mulmur, and the Beaver Valley.  If you are interested in our services, call us today. We look forward to working with you!
Similar Services We Offer: