We offer many services for new and existing home owners in Collingwood, ON and the surrounding region, including custom house designs, renovations and off-the-grid options.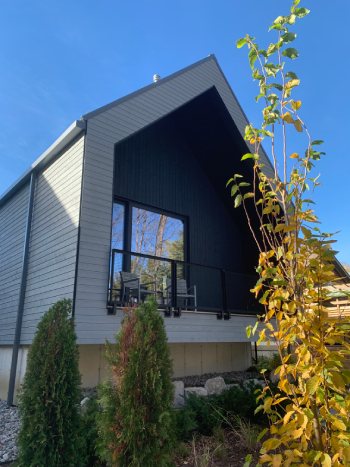 Scott Young is the owner of Scot-Build Developments Inc. He was born and raised in Bathgate in central Scotland. The son of a building quantity surveyor, he knew his career choice would be within the construction industry. Serving his carpentry apprenticeship with small builders / undertakers in the Royal Burgh of Linlithgow, Scott did not appreciate at the time what he was being taught by top (old school) carpenters with an abundance of knowledge of traditional methods of carpentry and building techniques, which in turn he now holds.
Following years of training, the natural step was to start a new business. In 1992, he began S D Young Joiners, which proceeded to become S D Young & Co Ltd. His main workload involved new construction of schools, hospitals, office developments, government buildings / projects and housing. However, some of his most memorable jobs were historic refurbishments including the "Honours of Scotland" in Edinburgh Castle, the Scottish National Gallery of Modern Art, and Sir Henry Raeburn's home in Edinburgh.
Scott and his family moved to Ontario, Canada in 2007, where he started working with a local custom home builder to learn the Canadian methods and meet local traders. In 2008, Scot-Build Developments Inc. was formed.
At Scot-Build, we offer many services for new and existing homeowners, including custom house designs and builds, renovations, Scottish Longhouse Designs and off-the-grid options. If you have questions about the services we offer in Collingwood, Thornbury, Creemore, Kimberly, Wasaga Beach, the Georgian Triangle, Mulmur, and the Beaver Valley, we would love to talk with you about your options.